The Influence of Political Messages in New Media to Political Awareness and Its Impact on the Political Participation of Millennial Generation
Abstract
Today many political parties use new media, the internet, as their political communication channel.  For young people, the internet serves as a dominant public space. Since young voters as millennial generation have great potential to increase votes, many political parties convey their political messages through new media used by millennial generation. This research is intended to see and study the influence of political messages in new media on political awareness and its impact on political participants of millennial generation. This research uses Stimulus Organism Response (S-O-R) theory as main theory, McQuail's mass communication theory, and theory or concept of political awareness, political participation and new media as well as millennial generation. This research uses quantitative approaches with a survey and questionnaire method as a means of collecting data. The millennial generation referred to in this research is younger generation aged between 17 and 37 years and lives in the Special Capital Province of Jakarta (DKI Jakarta). Based on the recapitulation of final voter lists for the 2018 general election, the number of voters aged between 17 and 37 years reaches about 2,885,000. The technique of determining the sample size uses Slovin's formula, with the margin of error reaching 5% so that the number of samples is 400. Meanwhile, the technique of sampling uses proportional sampling and data analysis technique uses path analysis. The results of the research show that political messages in new media have direct and indirect influences on the political participation of millennial generation.  
DOI:
https://doi.org/10.25008/jkiski.v4i2.333
Article Metrics:
Abstract Views -
130
PDF Downloads -
67
Refbacks
There are currently no refbacks.
Indexed by: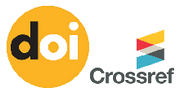 ---
Jurnal Komunikasi Ikatan Sarjana Komunikasi Indonesia (P-ISSN : 2548-8740, E-ISSN : 2503-0795)


This work is licensed under a Creative Commons Attribution-ShareAlike 4.0 International License.
Editorial Secretariat:
Jurnal Komunikasi: Ikatan Sarjana Komunikasi Indonesia (ISKI)
Wisma Antara, 2nd Floor
Jl. Merdeka Selatan No. 17, Central Jakarta 10110
Indonesia
Contact Person: Prof. Dr. Rajab Ritonga, M.Si
Email                  : rajab.ritonga@dsn.moestopo.ac.id
Call/Whatsapp : +62811133471
---
View My Stats