Berto, Agustinus Rusdianto, Communication Science Department, Faculty of Social and Political Science, Universitas Indonesia, Salemba Campus, IASTH Building 6th Floor, Jl. Salemba Raya No. 4, Jakarta 10430, Indonesia
Indexed by: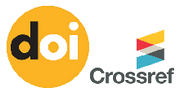 ---
Jurnal Komunikasi Ikatan Sarjana Komunikasi Indonesia (P-ISSN : 2548-8740, E-ISSN : 2503-0795)


This work is licensed under a Creative Commons Attribution-ShareAlike 4.0 International License.
Editorial Secretariat:
Jurnal Komunikasi: Ikatan Sarjana Komunikasi Indonesia (ISKI)
Wisma Antara, 2nd Floor
Jl. Merdeka Selatan No. 17, Central Jakarta 10110
Indonesia
Contact Person: Prof. Dr. Rajab Ritonga, M.Si
Email                  : rajab.ritonga@dsn.moestopo.ac.id
Call/Whatsapp : +62811133471
---
View My Stats