Ecological Communication in Information Society: Reflections on Niklas Luhmann's Thought in Understanding Ecological & Disaster Issues in Indonesia
Abstract
Ecological issues pose a serious threat to the continued existence of contemporary society. The recent development of humanity as an information society has been unable to overcome ecological issues; indeed, they have become more complex. Rapid advances in information and communication technology have fundamentally transformed various dimensions of human life. At the same time, ecological problems have been complicated by increasingly intense disasters, limited awareness of environmental degradation, as well as the increasingly apparent threat of global warming and climate change. Niklas Luhmann, a German sociologist, offered ecological communication as a conceptual framework for understanding the ecological problems faced by modern society. Through his system theory and concept of resonance, Luhmann sought to explain how modern society, as a complex social system, responds to ecological issues. This article seeks to explore in detail the ecological communication framework developed by Luhmann and use it to understand the ecological issues facing today's information society, especially in Indonesia. The main method used by this research is exploration and explication of the principles of Luhmann's theory, which are implemented to analyze various ecological issues and natural disasters in Indonesia. This research involved the collection of materials on ecological communication from Luhmann's books, as well as the linking of these materials to the ecological problems faced by information society.
Keywords
Ecological communication, Niklas Luhmann, information society, resonance, modern society
DOI:
https://doi.org/10.25008/jkiski.v4i1.270
Article Metrics:
Abstract Views -
296
PDF Downloads -
143
Refbacks
There are currently no refbacks.
Indexed by: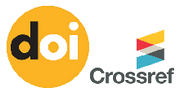 ---
Jurnal Komunikasi Ikatan Sarjana Komunikasi Indonesia (P-ISSN : 2548-8740, E-ISSN : 2503-0795)


This work is licensed under a Creative Commons Attribution-ShareAlike 4.0 International License.
Editorial Secretariat:
Jurnal Komunikasi: Ikatan Sarjana Komunikasi Indonesia (ISKI)
Wisma Antara, 2nd Floor
Jl. Merdeka Selatan No. 17, Central Jakarta 10110
Indonesia
Contact Person: Prof. Dr. Rajab Ritonga, M.Si
Email                  : rajab.ritonga@dsn.moestopo.ac.id
Call/Whatsapp : +62811133471
---
View My Stats