Framing Effects of Online News Survey Results on Individual Heuristics
Abstract
Indonesians often consume online news presenting figures of survey results, not only political news but other news as well, for instance, a news headline stated that 63 percent of people on average agreed to a cabinet reshuffle. Strangely enough, it was not stated 37 percent of people on average did not agree to a cabinet reshuffle, which has the same meaning. An attractive frame of online news will potentially get clicks from its audience. In theories of framing effect, news framing in general has a cognitive effect on the audience, including the framing of survey results. However, an opposing view suggests that the advent of new media, especially the internet and Web 2.0 technology, has changed the fundamental order of mass communication, which leads to a minimum effect of new media framing and difficulty in measuring them due to the emergence of preference-based effects as a natural attribute of the online media environment. This interesting research tries to examine the effects of framing in the realm of psychology, which is still quite rarely done in studies on framing effects, by using experimental quantitative methods that test individual evaluation heuristics. The framing of survey results turned out to have an effect on the heuristic assessment of the individual reader. The study prove that the framing effects remain even in new media platforms. The findings presented in this article are expected to contribute to the development of framing theories and media effects.
DOI:
https://doi.org/10.25008/jkiski.v4i1.263
Article Metrics:
Abstract Views -
331
PDF Downloads -
109
Refbacks
There are currently no refbacks.
Indexed by: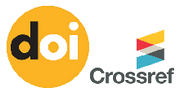 ---
Jurnal Komunikasi Ikatan Sarjana Komunikasi Indonesia (P-ISSN : 2548-8740, E-ISSN : 2503-0795)


This work is licensed under a Creative Commons Attribution-ShareAlike 4.0 International License.
Editorial Secretariat:
Jurnal Komunikasi: Ikatan Sarjana Komunikasi Indonesia (ISKI)
Wisma Antara, 2nd Floor
Jl. Merdeka Selatan No. 17, Central Jakarta 10110
Indonesia
Contact Person: Prof. Dr. Rajab Ritonga, M.Si
Email                  : rajab.ritonga@dsn.moestopo.ac.id
Call/Whatsapp : +62811133471
---
View My Stats