The Fight Against Hoax: An Explorative Study towards Anti-Hoax Movements in Indonesia
Abstract
False information or "hoax" related to political, economic, religious, cultural, even health issues has become a cause for concern for many people. It is feared that the massive proliferation of hoax-related issues in our public sphere, both in the media and daily interaction, will lead to conflicts if it's not handled properly. This fear has prompted some movements to fight hoax in Indonesia. The fight against hoax is conducted by many sides, both from government and non-government, in many forms. The Ministry of Communication and Informatics, the Police of the Republic of Indonesia, and the Indonesian Anti-Hoax Citizens have launched a number of anti-hoax movements by publishing information considered hoax. Besides, there are also some other movements to fight hoaxes, such as HoaxAnalyzer by students of the Bandung Institute of Technology (ITB) and Apps application by the Islamic organization Muhammadiyah.  On the global scale, the movement against hoax has been led by Google through Google News Lab and First Draft. The movement to fight hoax is conducted by combining technology and human's cognition to verify the information. Discussion in this research will explore some anti-hoax movements in society. This study aims to map anti-hoax movements in Indonesia. The mapping is intended not only to explore the form of the movements and the methods they use to fight hoax but also to see how effective the movements are to fight hoax in Indonesia.
DOI:
https://doi.org/10.25008/jkiski.v4i1.227
Article Metrics:
Abstract Views -
255
PDF Downloads -
96
Refbacks
There are currently no refbacks.
Indexed by: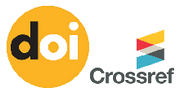 ---
Jurnal Komunikasi Ikatan Sarjana Komunikasi Indonesia (P-ISSN : 2548-8740, E-ISSN : 2503-0795)


This work is licensed under a Creative Commons Attribution-ShareAlike 4.0 International License.
Editorial Secretariat:
Jurnal Komunikasi: Ikatan Sarjana Komunikasi Indonesia (ISKI)
Wisma Antara, 2nd Floor
Jl. Merdeka Selatan No. 17, Central Jakarta 10110
Indonesia
Contact Person: Prof. Dr. Rajab Ritonga, M.Si
Email                  : rajab.ritonga@dsn.moestopo.ac.id
Call/Whatsapp : +62811133471
---
View My Stats