Air Asia Crisis Communications Strategies and Malaysia Airlines: A Content Analysis
Abstract
The aviation industry is one of the most vulnerable industrial sectors to the crisis. Failure to manage the crisis they face can threaten their lives. Therefore, managers of airline companies are required to have the ability to manage crisis and communicate in crisis situations. Crisis communication strategy becomes an important part in crisis management. This study uses content analysis of the crisis communication strategies used by AirAsia and Malaysia Airlines in their respective aircraft accidents on December 28, 2014 and March 8, 2014. This research found that both companies were fast enough to respond to crises despite differences in strategy they use in responding the  crisis. AirAsia emphasizes the use of apology without ignoring compensating, while Malaysia Airlines emphasizes compensation without ignoring apology.
Keywords
crisis communication, press releases, aviation industry, apology
References
Abramenka, Viktoryia. (2013). Content Analysis of British Petroleum and Tokyo Electric Power Company's Crisis Communication Messages: Comparative Analysis of Crisis Communication Strategies. Grand Valley State University Masters Theses. Paper 55. Oai:scholarworks.gvsu.edu:theses-1054
Benoit, W. L. (1995). Account, Excuses, and Apologies: A Theory of Image Restoration Strategy. Albany: State University of New York Press.
Cooley, S.C. dan Asya Besova Cooley. (2011). An Examination of The Situational Crisis Communication Theory Through The General Motors Bankruptcy. Journal of Media and Communication Studies Vol. 3(6) pp. 203-211. ISSN 2141-2545.
Coombs, W. T. (2006). The protective powers of crisis response strategies: Managing reputational assets during a crisis. Journal of promotion management, 12(3-4), 241-260. DOI:10.1300/J057v12n03_13.
Coombs, W. T. (2007). Protecting Organization Reputations During a Crisis: The Development and Application of Situational Crisis Communication Theory. Corporate Reputation Review, Vol. 10:163. DOI:10.1057/palgrave.crr.1550049
Coombs, W. T. (2010). Crisis Management: A Communicative Approach, In Botan C. & Hazleton V. (Ed.) Public Relations Theory II. Mahaw, New Jersey: Lawrence Erlbaum Associates
Coombs, W. T., & Holladay, S. J. (2007). The negative communication dynamic: Exploring the impact of stakeholder on behavioral intentions. Journal of Communication Management, 11: 300–312. DOI: http://dx.doi.org/10.1108/13632540710843913.
Coombs, W. T. dan Holladay, S.J. (2010). The Handbook of Crisis Communication. Malden, MA: Wiley-Blackwell
Coombs, W. T., & Holladay, S. J. (Eds.). (2011). The Handbook of Crisis Communication (Vol. 22). UK: John Wiley & Sons.
Cowden, Kimberly dan Timotthy L. Sellnow. (2002). Issues Advertising as Crisis Communication: Northwest Airlines' Use of Image Restoration Strategies During the 1998 Pilot's Strike. Journal of Business Communication 39:193. DOI: 10.1177/002194360203900203.
McDonald, L. (2005). Perceiving is believing: How consumers attributions about the causes of the Ansett airlines' safety crisis impacted outcomes. Asia Pacific Public Relations Journal, Vol. 6(2), 1-13.
Ray, Sally J. (1999). Strategic Communication in Crisis Management: Lesson from the Airline Industry. Westport, Connecticut: Quorum Book.
Sturges, David L. (1994). Communicating through crisis: A Strategy for Organizational Survival. Management Communication Quarterly. Thousand Oaks, CA: Sage Publications
Taylor, Maureen & Michael I., Kent. (2006). Taxonomy of Mediated Crisis Responses. Public Relations Review 33 (2007) 140-146. DOI:10.1016/j.pubrev.2006.11.017
Taylor, Maureen dan Danielle C. Perry. (2005). Diffusion of traditional and new media tactics in crisis communication. Public Relations Review 31:209–217. DOI:10.1016/j.pubrev.2005.02.018.
News Sites:
Allen, Kevin. (2015). "Comparing Malaysia Airlines and AirAsia's crisis responses". Diakses dari http://www.prdaily.com/Main/Articles/Comparing_Malaysia_Airlines_and_AirAsias_crisis_re_17863.aspx pada tanggal 2 Maret 2016.
Csbsnews.com. (2014). "How does AirAsia Flight 8501 compare to Malaysia Airlines Flight 370?". Diakses dari http://www.cbsnews.com/news/airasia-flight-8501-compared-to-malaysia-airlines-flight-370/ pada tanggal 2 Maret 2016.
Kompas.com. 12 Desember 2008. "Hadapi Krisis, United Airlines-Continental Airlines Bermitra". Diakses dari http://bisniskeuangan.kompas.com/read/2008/12/12/12244924/Hadapi.Krisis..United.Airlines-Continental.Airlines.Bermitra pada tanggal 5 September 2016
Nationalgeographic.co.id. 2 Desember 2015. "Hasil Investigasi KNKT Ungkap Penyebab Kecelakaan Pesawat Air Asia QZ8501". Diakses dari http://nationalgeographic.co.id/berita/2015/12/hasil-investigasi-knkt-ungkap-penyebab-kecelakaan-pesawat-air-asia-qz8501 pada tanggal 1 Juni 2016
Riana, Friski. (2015). "Begini Kronologi Jatuhnya Pesawat AirAsia QZ8501 Versi KNKT". Diakses dari https://bisnis.tempo.co/read/news/2015/12/01/090723803/begini-kronologi-jatuhnya-pesawat-airasia-qz8501-versi-knkt pada tanggal 1 Maret 2016.
Tempo.co. 28 Maret 2015. "Sejarah Hari Ini: Garuda Indonesia Dibajak Teroris". Diakses dari https://m.tempo.co/read/news/2015/03/28/115653505/sejarah-hari-ini-garuda-indonesia-dibajak-teroris pada tanggal 5 September 2016
________. 16 Maret 2016. "Puing di Pulau Reunion Diragukan Milik Pesawat MH370". Diakses dari https://m.tempo.co/read/news/2016/03/16/118754234/puing-di-pulau-reunion-diragukan-milik-pesawat-mh370 pada tanggal 28 Maret 2016
Viva.co.id. 20 Maret 2010. "Kru Maskapai British Airways Mogok Kerja". Diakses dari http://dunia.news.viva.co.id/news/read/137857-kru-maskapai-british-airways-mogok-kerja pada tanggal 5 September 2016
Voaindonesia.com. 29 Oktober 2012. "Maskapai Penerbangan India Dilanda Krisis Keuangan". Diakses dari http://www.voaindonesia.com/a/maskapai-penerbangan-india-dilanda-krisis-keuangan/1534880.html pada tanggal 5 September 2016.
Documents:
International Air Transport Association. April, 2015. Safety Report 2014. Montreal-Geneva. Diakses dari http://www.iata.org/publications/Documents/iata-safety-report-2014.pdf pada tanggal 28 Maret 2015.
Komite Nasional Keselamatan Transportasi: Aircraft Accident Investigation Report. (2015). Diakses dari http://kemhubri.dephub.go.id/knkt/ntsc_aviation/aaic.htm pada tanggal 2 Juni 2016
Statistic Brain Research Institute. (2016). "Airplane Crash Statistic". Diakses dari http://www.statisticbrain.com/airplane-crash-statistics/ pada tanggal 5 April 2016.
DOI:
http://dx.doi.org/10.25008/jkiski.v3i1.145
Article Metrics:
Abstract Views -
414
PDF Downloads -
301
Refbacks
There are currently no refbacks.
Indexed by: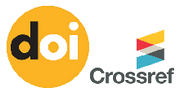 ---
Jurnal Komunikasi Ikatan Sarjana Komunikasi Indonesia (P-ISSN : 2548-8740, E-ISSN : 2503-0795)


This work is licensed under a Creative Commons Attribution-NonCommercial-ShareAlike 4.0 International License.
Editorial Secretariat:
Jurnal Komunikasi: Ikatan Sarjana Komunikasi Indonesia (ISKI)
Wisma Antara, 2nd Floor
Jl. Merdeka Selatan No. 17, Central Jakarta 10110
Indonesia
Contact Person: Rajab Ritonga, Ph.D
Email                  : rajab.ritonga@dsn.moestopo.ac.id
Call/Whatsapp : +62811133471
---
View My Stats